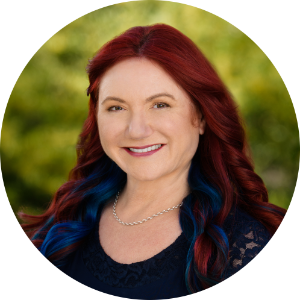 Jennifer Rehor
she / her
Licensed Marriage and Family Therapist (LMFT 94564)
AASECT Certified Sex Therapist (CST, C-SIT)
Tuesday: 1:00pm – 5:00pm (In-Office and Telehealth)
Wednesday: 11:30am – 5:00pm (In-Office and Telehealth)
Fees for Individual / Personal Therapy:
$270 (Daytime)
Fees for Couples / Relationship / Family Therapy:
$310 (Daytime)
See Fees tab for more information.
Phone: (619) 456-0830
Email: Jennifer@AffirmingTherapyCenter.com
Please note: My clinical caseload is currently full and I am no longer accepting new clients. I now focus my efforts on training and mentoring my team of sex-positive therapists.
I am the Founder and President of Affirming Therapy Center, a Licensed Marriage and Family Therapist, as well as an AASECT Certified Sex Therapist. My mission is to create a workplace for therapists who want to specialize in Sex Therapy, Couples Therapy, BDSM/Kink, and ethical non-monogamy, and to mentor them to grow and thrive in this field. Serving our community is my top priority; therefore, by supervising and training more therapists to expand their knowledge in these areas, I'm able to help even more clients than my own private practice would allow. Each of the clinicians at ATC is under my clinical supervision and/or consultation.
My work has taken me to human sexuality seminars, psychotherapy conferences, events, and cultures around the world. These travels have given me a rich appreciation of the incredible diversity found in this wonderful mosaic we call "people". Through these explorations, I continuously expand my awareness and learnings of how I can best honor and support the many expressions and embodiments of Gender, Sexual, and Relationship Diversity (GSRD).
Sometimes, I'm asked how I identify. Well, I am a first-generation American, the daughter of immigrants, queer, bisexual, kinky, polyamorous, and mostly cis-gender woman. I was raised with traditional and conservative values and was a late-bloomer in terms of my sexual orientations. I've been in a monogamous marriage, I am divorced, and I have co-created a non-traditional marriage of 15 years (and counting!). I've had many roles and titles within the world of kink, and each of these connections and dynamics has contributed to a deeper understanding of myself, people, and the world.
I am most passionate about normalizing sexual behaviors, fostering an understanding that different is not necessarily wrong, and giving people permission to pursue and explore their own desires, aspirations, dreams, and ultimately, themselves.
I believe in the importance of creating a space where people feel open to and supported in their process of growth. My practice, Affirming Therapy Center, is such a space. My team of therapists are here to help you in your unique journey — to explore and process through your events, thoughts, feelings, emotions, and patterns. Our vision is for you to live your best life!
---
Contact us now to schedule an initial session:
• Send an e-mail to Team@AffirmingTherapyCenter.com with a brief description of what's going on for you and your availability for appointments.
• One of our friendly therapists will respond (in 1–2 business days) to you to get started.
---